The Hopes and Realities of Downtown Theater Restorations
One city has remade its main street. Another dreams of doing the same. It's not as easy as it sounds.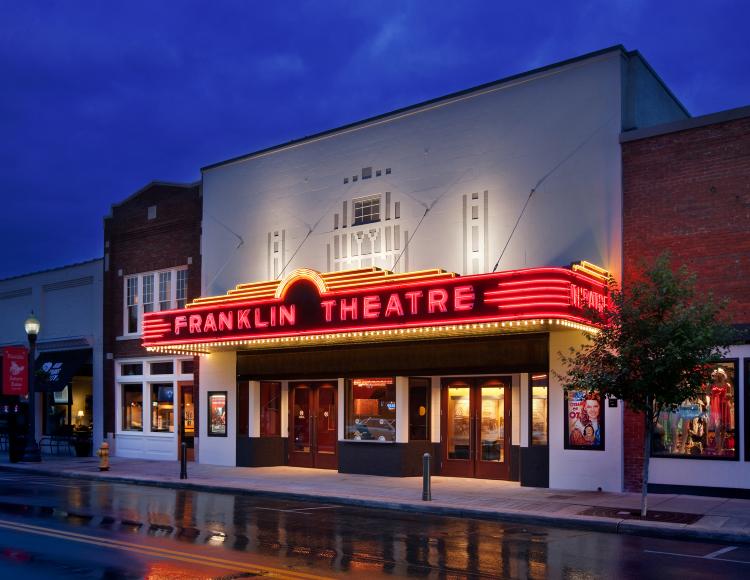 They are the scrapbooks of a town's memories, these old downtown movie palaces. First dates. Junior Mints and popcorn. Saturday morning cowboy serials. Gone With the Wind. So when these beloved institutions go dark, they leave a hole in the fabric of Main Street – a hole many communities are determined to mend. These two cities in Tennessee demonstrate the hope, struggle and the potential that can be realized in restoring these former landmarks.
The Franklin Theatre
In Franklin, Tenn., local preservationists set about the monumental task of saving the city's vacant Franklin Theatre in 2007, when it looked like the 1937 Art Deco building might become offices or a church. A vigorous Save the Franklin Theatre campaign by the Heritage Foundation of Franklin and Williamson County netted thousands of donations from residents, and with the help of several million-dollar-plus private donations, the Heritage Foundation was able to buy the building. That was only the beginning of a project that eventually cost more than $8.5 million. The theater had its gala reopening in 2011, complete with an expanded footprint, new seating, lighting, balcony, restrooms, concessions, green room, dressing rooms, an elevator, and state-of-the-art sound and digital projection equipment. Today, its stylish marquee sparkles on Main Street, announcing an impressive calendar of live musical performances, theater presentations, movies and special events. The once-decaying building has become a nationally known benchmark for those restoring and reinventing historic theaters.
"It's like we've all of a sudden injected a new cultural epicenter into the heart of downtown," says Theater Manager Dan Hays. In 2013, the theater sold more than 65,000 tickets to events and had a direct economic impact on Franklin's economy of $3.5 million, Hays says, reflecting not just ticket and concession purchases, but the added money patrons spent shopping and dining downtown.
Besides being an economic engine, there's an intangible side to the theater's mission. "When I ask people what business we're in, they say we put on shows, movies, sell concessions, etc.," Hays says. "But the business we think we are in is to actually change lives and the culture by motivating people, touching their emotions. Over time, it makes an important contribution to how we live our lives."
McMinnville's Park Theatre
An hour-and-a-half away, McMinnville, Tenn. is pursuing a similar dream. There, a nonprofit citizens group has been advocating and planning the restoration of that city's 1930s-era Main Street movie house, the Park Theatre, for more than 12 years. Having served as offices for many years, it was bought by the city after a 2012 ballot measure was approved. Despite the Park Theatre Group's hard work, restoration of the theater, languished until 2014, as the political climate varied and other municipal infrastructure needs took precedence.
Now, construction is underway, with a $2 million budget to turn the dilapidated theater into a 600-seat community arts center. City officials expect the project will take more than a year, and will bring economic vitality and more.
"The theater was always a place to meet for dates and gatherings, and we hope to bring back that sense of downtown, of belonging," says McMinnville Mayor Jimmy Haley. "That huge marquee was a beacon here for so long, and we want it to be a beacon again for the community – an inviting thing to bring people downtown and create a sense of excitement."